Too young for a Total Hip Replacement ?
When should you consider having a Total Hip Replacement ?
Intense or constant pain, significant stiffness, permanent difficulty in moving are signs of hip osteoarthritis or necrosis that lead to considering a total hip replacement, a surgery aimed at restoring the comfort of life by eliminating pain and allowing walking again.
It is a functional and non-vital operation which is therefore neither mandatory nor urgent. It is considered calmly and it is the patient and not the surgeon who is best able to determine if the discomfort is significant enough to justify the operation.
It is mainly this discomfort that will guide the decision to operate or not. However, when the wear of the joint is not very advanced, it is necessary, before considering surgery, to have first tried to relieve the pain by medicinal treatments (analgesics, infiltrations of hyaluronic acid) which can sometimes delay the hip replacement.
The patient's age has long been a decision criterion because the coating of older generation prostheses wore out after a variable period of 15 to 25 years, requiring all or part of the prosthesis to be changed, a complex operation likely to give a less functional outcome than for the first intention prosthesis. Since the end of the 1990s, materials have progressed, giving very promising results with almost zero wear after 25 years. The old dogma which consisted in considering fitting a hip prosthesis only after the age of 60-65 so as not to have to replace it is therefore no longer valid and in any case, it is better to have a hip prosthesis at an age when one can take advantage of it than to delay the moment of the intervention indefinitely at the cost of pain and limitations that are difficult to bear. Thus, in cases of osteoarthritis in subjects under 45 years of age, it is better to have a prosthesis that restores a satisfactory quality of life than to resist several years with intense pain to end up with a prosthesis a few years later.
Discover the operations linked to this article: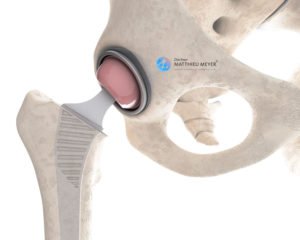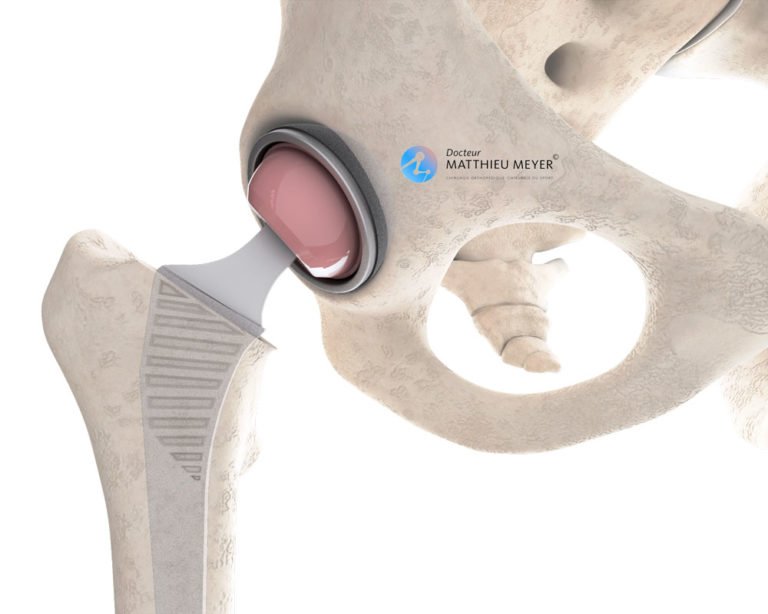 Some pathologies such as hip osteoarthritis or necrosis of the femoral head can require a total hip replacement. A minimally invasive anterior approach can be used for this arthroplasty, which spares all the muscles and tendons thus enabling faster recovery and reducing the risk of dislocation of the prosthesis.
Read more »